About Mark Davidson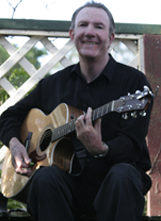 G'day, I'm a singer-songwriter from Brisbane, Queensland, Australia. I've been performing in my home State and Interstate as a solo artist and in various line-ups for….., let's just say for some years.
I have been fortunate enough to share the stage at Folk Clubs, Country Music Clubs and Music Festivals with many talented performers and song-writers. I've learned a great deal from them. It has been and remains loads of fun!
Among the songs I have written that I am fondest of are those co-written with other artists. These include Paul Sherman, actor and playwrite, Julie McGonigal, a fine musician & composer, Christine Euston, a superb player and songwriter, Stephen Crass, a wordsmith and Ewan MacKenzie, a prolific songwriter and virtuoso Guitarist.  
My body of work to date comprises three Albums and Three Singles;
Carried on the Wind,
Laughter in the Clay.
Madeline Jane.
So, now You've come to this time.
Robinson & Virtue.
Peppermint Grove.

I hope there is a track among them which appeals to you!